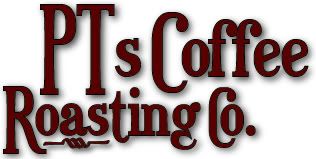 That's right! We at PT's are very excited to finally be able to share the news! Look for the newest issue of Roast Magazine for more details. Here's a copy of the press release for now-
PT's Coffee Roasting Co. has been named Roast magazine's "Roaster of the Year" for 2009 in the publication's November / December 2008 issue released today.
The annual "Roaster of the Year" title is awarded to candidates that serve coffee of superior quality, demonstrate a strong commitment to sustainable practices and their employees, among other criteria.
"We never set out with the intent of winning awards," said PT's Coffee co-founder Jeff Taylor, "but it is gratifying to gain recognition for doing business the way that we feel is right; for example, through our Direct Trade program that develops relationships with farmers who are rewarded for exceptional quality, sustainability and commitment to their communities."
PT's Coffee edged out North America's top specialty coffee roasters in the large (Macro) roaster category (companies roasting more than 100,000 pounds of coffee annually) to win the industry accolade.
"I am proud to have PT's Coffee Roasting Co. represent Roast magazine as our 2009 Roaster of the Year," said publisher Connie Blumhardt. "PT's Coffee encompasses all the qualities that we look for in our Roaster of the Year -- environmentally and socially responsible, innovative roasting, a strong commitment their employees and of course, serving great coffee."
Two categories of the award are presented each year. Winning the small (Micro) roaster category was Coffee Klatch of San Dimas, CA. Owner Mike Perry is a friend and frequent coffee buyer with PT's Coffee.
About PT's Coffee Roasting Co.
PT's Coffee Roasting Co. began in 1993 as a single coffee shop in Topeka, Kansas, later expanding into coffee roasting in 1997. PT's Coffee now roasts over 100 tons of premium specialty coffee annually for wholesale clients and operates 3 retail locations in Topeka and Overland Park.
Recognized for award-winning small lot coffees, PT's Coffee is among the leading roasters reviewed by industry resource Coffee Review, receiving the guide's highest ever rating of 97 points. PT's Coffee manager Pete Licata ranked 2nd in competition at the 2007 & 2008 U.S. Barista Championships.
PT's Coffee can be found at fine coffee shops and restaurants nationwide and in select Whole Foods locations. For more information or to try PT's award-winning coffee, call 888-678-5282 or visit
http://www.ptscoffee.com
.