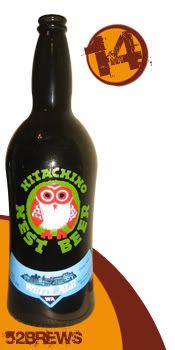 If you have not had this beer yet is is simply amazing. I tried it last night for the first time and i was blown away. This white ale delivers a very crisp refreshing sip. A bit dry but not unpleasant. Very sweet with an explosion of flavor. The first thing that came to mind at first sip was oatmeal cookies, it also has some citric apricot, orange peel, and a little bit of spice.
Altho this beer is a bit pricey($10.00 bottle @ pub), it is completely worth it. I'm really excited to try more from this Japanese Brewery. This brewery offers a selection of 10 different beers, including and amber ale, pale ale, wizen, and a red rice ale.
If you have not tired Hitachino, get on that shit!
You won't be dissapointed.